Road racer tells Andy McGechan why he's putting retirement on hold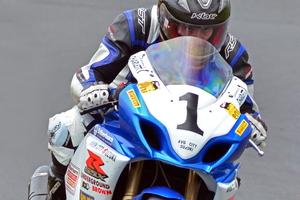 Dennis Charlett (Suzuki GSX-R1000) is determined to defend his national superbike crown in 2015. Photos / Andy McGechan, BikesportNZ.com
Retirement didn't last very long for Dennis Charlett. The Canterbury crusader will again spearhead the Suzuki assault on New Zealand's motorcycle road race titles in 2014-15.
The 45-year-old former national 125cc and 600cc champion finally became the New Zealand superbike (1000cc) champion earlier this year and he did it with relative ease -- despite intense racing throughout the four-round series.
Charlett (Underground Brown Suzuki GSX-R1000) had built up enough of a points lead at the two South Island rounds of the series at the start of this year that, by the time racing headed up for the two North Island rounds, he was in a strong position.
The Christchurch man then did all that he needed to do at the final round at Manfeild in March -- finishing 7-8-6-2 in his four races that weekend -- to seal the premier title ahead of Australian BMW rider Linden Magee, then promptly announcing his retirement.
But Charlett has decided "you can never say never" and he announced he will be back again on a Suzuki GSX-R1000 bike when the 2014-15 season gets under way, starting with the three-round Suzuki Series at Hampton Downs on December 6 and followed by the national championships.
"I've sold my title-winning bike to Wanganui's Jayden Carrick, so I will be starting from scratch with setting up another bike, the one previously raced by [Australia's five-time former New Zealand superbike champion] Robbie Bugden," said Charlett, general manager of a sheet metal fabrication workshop.
"I'm really looking forward to racing it. I'm lucky enough that, with all the work I've done, I already have some pretty good base settings and so I'll be 90 per cent ready to win right from the start.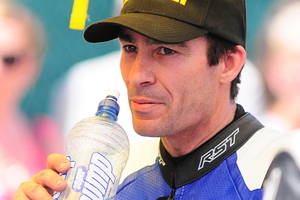 Suzuki GSX-R1000, Dennis Charlett
"This will be my third season on a superbike after I finished third outright in 2013, then won the title this year. I also won the Suzuki Series in the class in 2012 and I'd like to win that again, as well as win the day on the streets of Wanganui on Boxing Day. That's something I'd really like to tick off my bucket list.
"I believe I'm riding better now than at any time in my career, although I don't know how many years I will keep this up. They say it's harder to defend a title than win it in the first place, so I've just got to man up and go harder to defend my title. The support I'm getting from Suzuki, and my other sponsors too, is fantastic."
With Charlett again leading the way, the Suzuki strike force looks strong, with such talented riders as Wellington's national No3 Sloan Frost, Auckland's national No4 Jaden Hassan and Christchurch's John Ross also riding GSX-R1000 machines.
Charlett will have his work cut out to defend his title against Frost, Hassan and Ross, along with stiff opposition expected from Carrick, Hamilton's Nick Cole (Kawasaki), Whakatane's Tony Rees (Honda), New Plymouth's Hayden Fitzgerald (Suzuki), Taupo's Scott Moir (Suzuki) and Feilding's Craig Shirriffs (Suzuki).
The threat posed by Ross will be of particular interest. Ross won the 600 supersport class title last season and is expected to be a contender on the bigger machine.