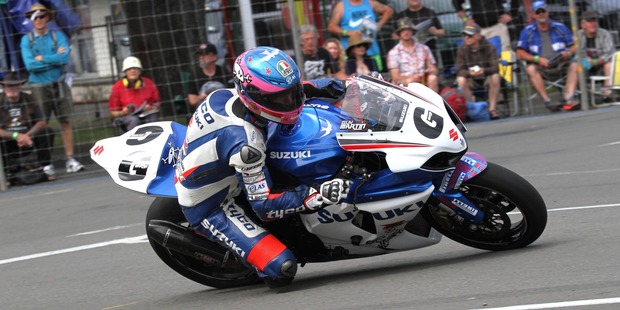 Film and TV star Guy Martin races a Suzuki GSXR1000 around Wanganui's Cemetery Circuit. Photos / Terry Stevenson
Racers from around the world are all revved up and ready for the 2014 Suzuki Series which kicks off at Hampton Downs on Sunday, December 7.

Spread over three quick-fire rounds at Hampton Downs, Manfeild and Wanganui during December, the Suzuki Series is the richest international motorcycle series in New Zealand.

The big news is film and TV star Guy Martin is returning for another crack at the Cemetery Circuit, for unfinished business. This year the Briton will be racing a more competitive Suzuki NZ GSXR1000 Superbike, and the truck mechanic will be aiming to improve on last year's fifth and sixth placings.

Martin will also race a Manx Norton in the Classic category during his third visit to Wanganui.
Guy Martin drawing the winner of the new Suzuki bike draw in 2013
No less than 15 international riders take the grid from countries including Japan, Liechenstein, Britain, the Isle of Man, and Australia.

With 2013 Suzuki Series champion Nick Cole retired from motorcycle racing, Horst Saiger (Liechenstein) has taken up the challenge on the Red Devil's Racing Kawasaki ZX-10R Superbike.

Saiger has vast experience and has competed at the Isle of Man, the North West 200, and is a current member of the Bollinger Team Switzerland (Kawasaki) in world Endurance racing, finishing second in 2014. Riding a ZX-10R, Saiger finished a creditable sixth at the Macau GP last weekend.

Australian Enduro ace Phil Lovett makes a welcome return, along with his Auckland-based daughter Sophie, both racing Kawasaki ZX-10R Superbikes. Rennie Scaysbrooke makes his second visit across the Tasman to race a Suzuki GSXR750 and GSXR600 at Wanganui.

Fast Australian Linden Magee also makes his second appearance in the series, on the M1 Motorsport BMW S1000RR. Magee suffered a high-speed crash at Manfeild last year which put the BMW out of the series.

All of them will have to deal with the local Kiwis before they can claim first prize, but it would be a brave person to pick a winner from the NZ talent pool.

2012 Suzuki Series champ and current NZ Superbike champion Dennis Charlett returns on his Underground Brown Suzuki GSXR1000. The Christchurch racer knows what it takes to win the big races, and titles. Charlett finished second last year.

Sloan 'Choppa' Frost (Wellington) is one of the country's fastest riders but will need greater consistency on his Fujitsu TSS Red Baron Suzuki NZ GSXR1000 if he wants to improve on his third overall in 2013.

Frost says, "I'm excited to get the Suzuki Series underway. We have been busy getting prepared and I'm excited to be welcoming Bailie Perriton to the team who will be riding a Suzuki NZ GSXR600L2. I'm finally getting back up to speed following surgery on my wrist from an accident at Wanganui last year, so I'd really like to make amends this year!
It's never been easy to win races but the list of riders now that are capable of winning races is longer than I can ever remember!"

Taupo's Scott Moir finished fourth last year on his GSXR1000 and could be just the person to capture his first big bike title. Hayden Fitzgerald was only five points behind Moir in 2013 on his Team RGM Suzuki GSXR1000, and only needs to make a small step up in speed to capture the wins.

No one can ever discount the resurgent Tony Rees of Whakatane, on his well prepared Tony Rees Honda CBR1000RR.

A race winner in the NZ championships, Auckland teenager Jaden Hassan has an outside chance of taking the Suzuki Series, just as he did in the F2 class in 2012.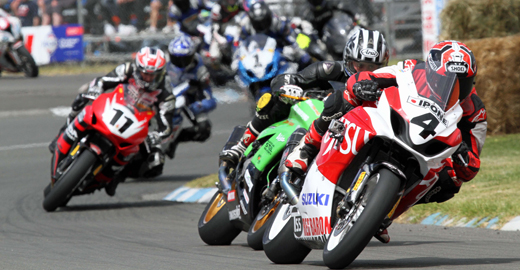 Sloan Frost leads the charge on his Fujitsu Suzuki Superbike
With a close points system riders cannot afford to suffer a crash or mechanical failure if they want a share of the massive $36,550 series prizemoney.

The F2 600 category promises to be as competitive as ever, with top riders such as Adam Chambers, Daniel Mettam, Alistair and James Hoogenboezem, Rhys Holmes, 15 year old Aaron Hassan and international racer Connor London all looking to cross the line first.

Japanese riders Toshiyuki Arakaki and Akashi Kohno, the UK's Billy Redmayne, plus Australians Aidan Hopkins and Rennie Scaysbrooke round up the international F2 list.

Defending F2 champion Toby Summers returns as favourite on his R&R Power Sports Yamaha R6, and this year will focus on his 600cc effort, not riding in Supermoto.

Italy-based Avalon Biddle will be riding an Ozzy 450 in the F3 class - she was an F2 600 front-runner last year. In one of the greatest match-ups of the Series, Biddle will be pitting her international skills against UK racer Maria Costello MBE, on a KTM690 which she will also ride in the BEARS category. Costello raced at Hampton Downs last month during the Barry Sheene Memorial.

America's Cup Team New Zealand head Grant Dalton is swapping sea spray for hard tarmac as the Aucklander is set to race his Kawasaki ER6 in the F3 class at Wanganui.

Hamilton's Aaron Lovell and new passenger Tracey Bryan (Tauranga) will be anxious to go two better in the title chase than last year's third overall on their Barfoot & Thompson LCR Suzuki. Racing a Boss Engineering Windle F1 sidecar, the Adam Unsworth-Stu Dawe pair from Auckland won last year and know how to get the best out of their aging machine. Both riders are highly competitive and won't give in without a fight.

The support classes are often where the best racing takes place, including Formula 3, BEARS and the popular Post Classics. Classic solo machines and classic sidecars will appear at Wanganui only.

$25 'early-bird' tickets for the Wanganui round are available atwww.cemeterycircuit.co.nz to go in the draw to win a brand new $8,999 Suzuki DR650 SE after the last race - entrants must be present to win. Guy Martin himself will again be making the draw.

2014 Suzuki Series schedule
Round 1: Hampton Downs, Sunday December 7
Round 2: Manfeild, Sunday December 14
Round 3: Wanganui Cemetery Circuit, Friday December 26